Serge Lutens – Gris Clair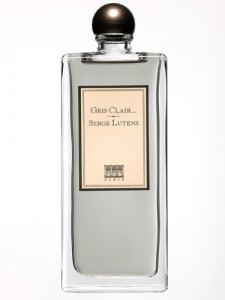 I will start out this post with two admissions. First: I do not tend to view fragrances as "masculine" or "feminine", rather as well-composed and beautiful, or not. There are several fragrances which I appreciate from both categories, one of my favorites being Chanel's Egoiste. That being said, Gris Clair is definitely suited to being worn by a man. Second: I have a degree of synesthesia, which means that I perceive abstract things as having color. For example, the number One is white. The letter E is green. While I do not experience this to a degree that is disruptive (unless you consider not being able to wear certain fragrances while dressed in a certain color disruptive), it does sometimes create confusion when my perceived impression is challenged. Case in point, the fact that Thierry Mugler's Angel was blue-colored was shocking to me, because it was so obviously in my mind the smell of all things deep, delicious and brown. Why I raise this will become clear.
The first time I set out to conquer the masterful body of work that is the Serge Lutens line, I started small. Not in volume, just in size. I obtained a number of sample vials based largely on description and personal inclination. As part of this bounty, I requested a vial of Gris Clair. When the samples arrived, I immediately smothered myself in Tubereuse Criminelle and Ambre Sultan and was out of commission for the rest of the evening. The next morning, I opened the Gris Clair vial and was immediately surprised by the novel treatment of lavender. I liked it well enough, but then I put it away to further explore the more immediately and blatantly intoxicating fragrances.
Then a funny thing happened. Days went by, and I could not stop thinking about Gris Clair. Was that a hint of smoke I detected? How did the interplay between lavender and a certain ashy sensation play out? Like a handsome stranger one sees fleetingly before the train doors shut, I could not stop thinking about this mysterious beauty. I had to seek it out and investigate further.
While I generally associate lavender with warm sunshine, sweeping fields and the fresh-scrubbed innocence of childhood, Gris Clair's lavender did not fit into any of these categories. This is an adult, refined lavender with a shadowy, ghostly aspect. Gris Clair has a certain chill to it, not unlike the smell of dry burning wood on a cold winter night. While tonka and amber round out the smokiness and give a spark of life and depth to the fire, the predominant impression is that of alternating wisps of lavender and incense smoke. Neither impression dominates, the two just alternate and envelop each other throughout the day in a magical smoky dance.
While the sillage is more serene than some of Christopher Sheldrake's creations for the Lutens line, the tenacity is no less impressive. It stays with me through the day without my needing to hunt for it. While I would be loath to attempt to pit one Serge Lutens fragrance against another in comparison, this is quite different than many of his creations. Circling back to the synesthesia discussion, I see the entire Serge Lutens line as a color wheel, where certain shades congregate at one part of the circle versus another, grouped by commonalities in composition.  Blues and purples here, yellows and greens there and round again for red and orange. Exchange certain elements of the composition and you no longer have blue, you have orange.
I sometimes have the sense that the house views the fragrances this way as well, given the deep and provocative hues they select for the fragrances. Gris Clair is in fact, light grey and falls to the end of a certain spectrum in the line, closer to a Five O'Clock at Gingembre and a tiny glimmer of Ambre Sultan. If you prefer the other end of the color wheel inhabited by A La Nuit, this will probably not be for you, unless like me, you have room enough in your heart to love them all. Gris Clair… definitely inhabits the other-worldly domain of grey where the sharp lines between black and white fade to abstraction: it is neither lavender nor ash. It is both and yet neither, warm and cold, calm and yet arresting. If I had to select one word to complete the space after the ellipses in the name, the suggestion that there is more to this fragrance than initially perceived, it is this… haunting.
Woods
Notes: iris, incense, tonka bean, amber, lavender and wood notes.