Hermes – Jour d'Hermes
One of the things I love most about Europe is the prevalence of fresh flowers. While the climate where I live is warm nearly year-round, I am always surprised and cheered by the commitment to the floral arts on a continent where the weather is less conducive to plant growth. And yet flowers can be found everywhere, from gorgeous public gardens where one can sit for hours admiring the well-manicured arrangements to open air markets where one can stroll at leisure and select an armful of blooms to grace a hallway table. The emphasis on this simple and portable form of beauty appears to be everywhere. I find nothing more satisfying than setting out on foot to explore a city and coming across an intimate little flower shop, where one can admire the shopkeeper's beautiful arrangements and take in the aroma of dozens of blooms in close quarters.
It is this joyful, celebratory sensation that Jean-Claude Ellena has captured in Jour d'Hermes, where we are treated to not one, but a flowershop full of scents. Ellena is truly the master of understated complexity, and his latest release does not disappoint. Jour d'Hermes is at once crisp and velvety, dry as silk and wet as moss. Upon first application, I expected Jour d'Hermes to be a fleeting floral, and yet this diaphanous beauty has an impressive longevity. It wears close to the skin which feels appropriate, for the fragrance conveys a certain sense of intimacy.
According to Denyse at Grain de Musc, Hermes and Ellena purposely withheld a list of notes to allow each wearer their own experience and interpretation of the fragrance. Jour d'Hermes is at once no flower and all flowers, an imaginary bouquet of luminosity. From my testing, the fragrance offers the zest of lemon, the green bite of lily of the valley, the powder of rose, the depth of jasmine, the darkness of ivy and the sweet, soapiness of orange blossoms. And just when I have become entranced with the lightness and innocence of this arrangement, Ellena pulls off a masterful deception and reveals a deeply sensual base.  Though it's been a while since I fell for a bottle, the weightiness of this flacon feels simply decadent, elegance as only Hermes can deliver.
Floral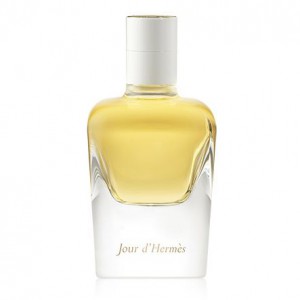 Notes: Be inspired. Let your imagination run wild!