Robert Piguet – Fracas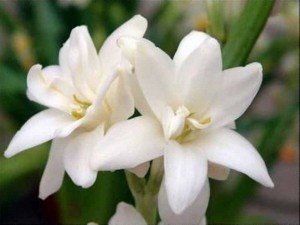 There are some fragrances which are love at first sniff, as though the scent satisfied some intense longing we never knew we had. And there are those which we struggle with, knowing conceptually that they are the stuff of legacy, but which we are nevertheless unable to embrace. While most would pass on a perfume that failed to capture their immediate attention, many perfumistas have confessed to a struggle with one classic or another until either the relationship ended, or a lifetime romance began. For me, it was Fracas.
Perhaps it was not the fragrance itself as much as it was tuberose, the heady white flower which when used injudiciously can evoke images of a Hawaiian luau. The name also befuddled me, as fracas implies a noisy conflict or quarrel and I found none of that here. I had a vintage bottle which I kept for reference purposes mostly, taking it out every now and then to re-test, which I did regularly over the years. Perhaps there was some half-forgotten association from childhood, but whatever the reason, the lovely little bottle went unloved for many years.
And then something magical happened. The way an old friend who has waited patiently in the wings while you date the more flashy suitors, I found myself thinking of Fracas and wondering if there might be something there, some magic spark. Magic indeed. Fracas was created by Germaine Cellier in 1948, one of the few female noses and a master of her craft. In addition to other memorable Piguet fragrances, she was the genius behind Balmain's Vent Vert.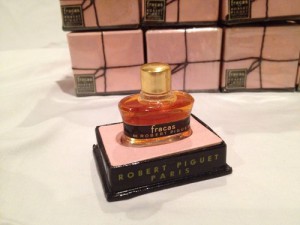 While Cellier used a perfume base in her creation of Fracas, a dense, luscious tuberose dominates the landscape and indeed, it appears that any other flowers are there to support tuberose in its leading role. Upon application, one notices immediately that Fracas is like no other. The citrus opening is miles away from the ordinary, lush and rich, rather than sparkling.  As the tuberose unfolds, it seems impossibly large, buoyed by the presence of jasmine and violet, which lend to the fragrance's deep indolic quality. There is an unctuous sensation to the fragrance, as though the tuberose had turned to syrup.  While iris helps to temper the creation slightly, Fracas envelops you in a thick velvety haze that is indolic one moment and pure butter the next. Fracas is tuberose on the point of turning, with animalic references throughout enforced by the depths of oakmoss and woods.
Fracas feels both sophisticated and sensual. It is a fragrance which one must give oneself over to, as it is completely enveloping, to the point of rapture. And now that I have given myself over, there is no turning back.
Floral
Notes: bergamot, orange blossom, greens, peach, tuberose, jasmine, violet, iris, lily of the valley, carnation, sandalwood, musk, oakmoss, and cedar.