Hermès – Un Jardin en Mediterranée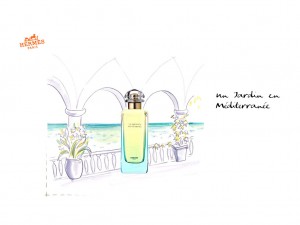 No summer reveries of fig fragrances would be complete without the beauty of Jean-Claude Ellena's 2003 Un Jardin en Mediterranée. While I would be loathe to try and select a favorite fig scent (or a favorite fragrance for that matter), Un Jardin en Mediterranée takes me the closest to a Mediterranean summer fantasy.
Un Jardin combines all the elements of my olfactory vacation in a bottle: the salty warmth of the sea air, the sparkling bite of citrus, the earthy green tang of figs and the subtle magic of a stroll through a grove of trees warmed by a day full of sunshine.
Un Jardin en Mediterranée is fairly linear. The citrus opening has just a touch of sweetness, a hint of the juicy fig to come.  While one might expect all of this fruit to be cloying for a summer-themed fragrance, the overall effect is very light, true to Ellena's style. All throughout, woods and light musk lend a subtle twilight quality to the fragrance which keep it subdued and elegant.
Un Jardin en Mediterranée wears close to the skin, lending a sense of intimacy to its character. It is light and fairly uncomplicated, making it a perfect companion for the carefree days of summer. I can almost feel the warm summer breeze blowing through my hair…
Fruity Woods
Notes: Citrus Notes, Orange Blossom, White Floral Notes, Fig, Woods, Musk.