Kenzo Flower
Created in 2000 by Alberto Morillas, Flower by Kenzo appears to be undergoing a renaissance as of late. The folks over at LVMH have created a lovely new ad/commercial for a flanker known as Flower in the Air (seen here and here), which emphasizes the fragrance's special character. While I have yet to get my hands on a sample, I thought it a perfect time to review the original Flower. Although it is a clearly contemporary creation in terms of its structure, Flower has one foot squarely in the past, paying deference to some of the great perfume classics.
Flower was  styled as a poppy fragrance, meant to represent the scent of this supposedly scentless flower (though a fellow collector friend tells me the plants have a sharp green scent). Press marketing aside, Flower is a soft powdery violet with aspects reminiscent of L'Heure Bleue and Royal Champagne de Caron.  While the most recent sample of Flower I picked up seems reformulated and less brilliant than I recall, it is nevertheless closer to its happy, carefree self than either of its forebears.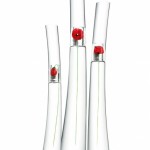 Flower's fluffy violet is grounded by hints of vanilla, musk and opoponax, all of which are painted in soft brush strokes keeping the fragrance light throughout. While the fragrance has fairly good lasting power, it never feels heavy, and manages to convey its message in whispers. Flower is a lovely, relatively affordable choice when one needs the singular lift only a fragrance can bring. Perfect for a younger woman just venturing into fragrances.
The Flower line was expanded to include body products and though I have not seen it in person, the Sephora site claims that the new flacons are now re-fillable!
Floral
Notes: Wild Hawthorne, Bulgarian Rose, Parma Violet, Cassia, Opoponax, White Musk, Vanilla.