Guerlain – Bouquet de Faunes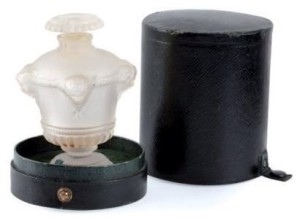 Few fragrances are shrouded in as much mystery as Guerlain's Bouquet de Faunes. The fragrance, which debuted in 1922, and its singular flacon designed by René Lalique in 1925 (reportedly his first and last for the house due to a clash of egos) is rarer than rare, appearing once in a blue moon in various auction houses, for a sum many times its weight in gold. And yet, miracles do happen (in my case, meeting and befriending a lifelong Guerlain collector), and I was beyond fortunate to secure a bottle for myself.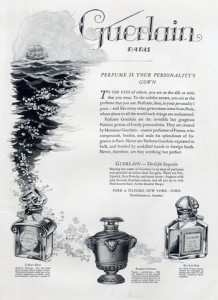 The little bits of information that I was able to gather about the fragrance over the years could not have possibly prepared me for my first encounter.  The bottle, which was historically available in a few different variations, one with waves (as depicted in the advertisement), then later without, and even rendered in a subtle amethyst in its rarest form, is spectacular. The flacon features a face on each of its shoulders, alternating the visage of a faun with that of a woman, in what appears to be a reference to the face above the entrance at the 68 Champs. The smoky glass just slightly veils the parfum within, the darkest, densest fragrance I have ever laid eyes on, adding to its mystique.
The first time I held the bottle in my hands, I was tempted to stop right there: for what could possibly surpass the beauty of this vessel?  I need not have worried. The meticulous nature and creative genius of Jacques Guerlain are immediately noticeable. Knowing that the fragrance was originally created to perfume furs and given the animalic potency of the other fur perfumes and leathers I have tested, I expected to be overpowered by its aroma.
Overpowered yes, but by its beauty rather than its strength. While the fragrance undoubtedly possesses a distinct animalic nature, it is rendered in the softest, velvety tones. Much like a perfect symphony is more than the sum of its parts, Bouquet de Faunes creates an overall impression more so than any other vintage Guerlain I have tested to date. Rather than being merely a collection of notes which result in a pleasant smell, Bouquet creates a mood, and imparts a feeling of comfort and well-being. In fact, its warmth reminds me more of a gentle deer faun sleeping peacefully on the rich forest floor, than of the playful, mischievous Pan.
Bouquet is linear to some extent, with no obvious blast of top-notes. It settles fairly quickly on the skin, revealing a beautiful melange of subtle floral notes and light animalic accords. While Bouquet reveals soft hints of jasmine, civet and the slight oiliness of castoreum (with perhaps a hint of patchouli), the main impression is that of warm, shadowy cloves, which are portrayed here with a softness not unlike the cloves in Caron's Bellodgia. While Bouquet smells like no other fragrance I have ever encountered, it does share some similarities with other Guerlains. From Jicky, it inherited the silky, slightly icy quality, which is tempered here by the plush velvet richness of Shalimar. Its soft powder is rivaled only by L'Heure Bleue, but here we see it rendered in low, muted whispers.
Bouquet is without question one of Guerlain's greatest masterpieces, a tribute to its creator Jacques Guerlain. While I wish beyond hope that this beauty would be more accessible (I even considered not reviewing it due to its rarity), I fear what the result would be given the severe restrictions on perfume materials and the current state of Guerlain fragrances. I fear I will have to content myself with taking surreptitious whiffs of the fragrance and dreaming of its jasmine sister.
Notes: Floral Notes, Animalic Notes, Clove