Gucci Rush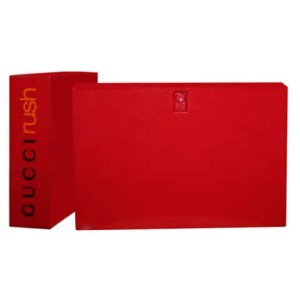 Like many dedicated perfumistas, my fragrance collection spans a wide variety of genres: from the ultra-rare and "très cher" to the timeless and chic, without discrimination for cost, high or low as it may be. After all there are still bargain fragrances out there, and while the folks at Chanel would have us forget, there was a time when Chanel No 5 could be found in drugstores.
All of this by way of introduction. While some fragrances are no doubt contemplative à la Serge Lutens or intellectual (here's looking at you Guerlain), we must all leave a bit of room for pure, unadultered joy.
No fragrance lends itself better to this category in my opinion than Gucci Rush. Though it has references to some of the great classics, like Mitsouko and Diorella, they are delivered with the tongue in cheek, larger-than-could-possibly-be-tasteful style of Gucci under Tom Ford's reign.
Gucci Rush starts off with a blast reminiscent of hairspray and fruit – in fact it feels like poking your head into a young woman's room as she is preparing for a fun night out with friends: scented bath gel, fruity shampoo, hairspray, perfume and body lotion. Rush is like a cacophony of scents that should not work together but absolutely do, as evidenced by the number of suitors this young woman has attracted after a night of dancing.
Rush's white florals are sparkling and playful, leaving the heavier indoles to its more serious floral sisters. A hint of coriander lends dry spice and drama to the fragrance and keeps it from veering into a traditional fruity floral. The drydown is pure, if not strange, olfactory heaven.
Rush morphs into a synthetic milky peach which lacks Mitsouko's solemnity but is nevertheless beautiful. Similar to Dior's Diorella, Rush's peach is warmed and mellowed by patchouli, but Rush manages to maintain a modern, slightly plasticky edge.
Rush is a terrific fragrance for going out, or for those days when the gravity of life is too much to handle. Despite the beauty and elegance of its composition, Rush does not take itself too seriously (as evidenced by it's plastic, cassette-like flacon) and maintains a joyful edge.
While with most posts I search for an image to convey the visual equivalent of the olfactory sensation, Rush couldn't be contained to a two-dimensional image. Embedded then is a link to a remix of French singer Yelle's "A Cause de Garçons" – the perfect combination of fun, trash, brash and the simple joy of movement. What a genius Michel Almairac has proven to be.
Notes: Gardenia, Freesia, Jasmine, Rose, Coriander, Vanilla, Patchouli, Vetiver.