Guerlain – Nahéma
"Mon grand-père Jacques m'a dit un jour:
'Mon petit, n'oublie jamais que l'on crée toujours des parfums pour les femmes qu'on aime, qu'on admire et avec lesquelles on vit'
Et c'est comme cela que tout a commencé."
"One day my grandfather Jacques said to me
'My little one, never forget that one always creates perfumes for the women one loves, admires and those with whom one lives.'
And that is how it all began."
So begins the book "Parfums d'Amour" by Jean-Paul Guerlain, in which he describes the journeys, both literal and figurative, he undertook to arrive at his fragrant creations and the women who inspired him. Although the story behind the inspiration for Nahéma does not appear in Parfums d'Amour, this introduction could not more perfectly describe the fragrance, which along with Jicky, is perhaps among the more well-known of Jean-Paul's amorous anecdotes.
What would a perfume inspired by the paragon of beauty, Catherine Deneuve, smell of? For Jean-Paul Guerlain, whose 1979 fragrance Nahema was inspired by the award-winning, supremely talented and breathtakingly beautiful actress, the answer was simple. The archetypal symbol of romantic love: the rose. And what a rose he created.
Legend has it that Jean-Paul made 138 attempts at the creation before reaching perfection. Nahéma, which translates as "born of fire" or the "fiery one" is an incredibly ripe, lush rose.  With its plummy and peachy facets, which give the fragrance a fullness and ripeness well beyond a simple soliflore, he achieved a rose so compelling that it takes on a nearly three-dimensional aspect. While rose fragrances are often dismissed as being "old-fashioned", Hyacinth adds a delicious tension to the fragrance, making this a rose that could never be mistaken for anything less than a sexpot.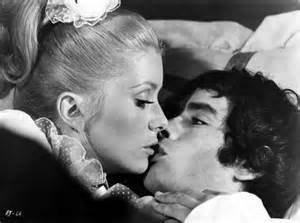 While I do not find Nahema to be particularly "fiery", there are oriental aspects which when combined with the ripe fruit notes and Ylang-Ylang suggest a degree of feminine intimacy, not unlike Rochas Femme. Much like a young Catherine Deneuve, Nahéma is inexplicably lush and sensual, like a woman in a crimson velvet gown full of voluptuous curves.
Notes: Peach, Bergamot, Citrus Notes, Aldehydes, Green Notes, Rose, Jasmine, Lilac, Hyacinth, Lily of the Valley, Ylang-Ylang, Peru Balsam, Vanilla, Vetiver, Sandalwood