Carven – Ma Griffe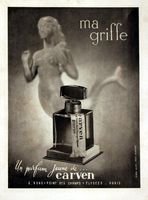 My eyesight is very poor, a circumstance which at times provokes sheer panic at the thought of not being able to read, which is essential in my line of work and my life as I know it. When asked which of the five senses they would give up, people are often quick to sacrifice their sense of smell without taking into consideration the impact this would have on their lives. Aside from the obvious lack of scents, flavors would be gone as well. Think of how many scent-triggered memories and associations you treasure: the smell of a loved one, autumn, holiday cooking – these would all be relegated to the territory of imagination. Indeed, life would take on a flat and somewhat frightening existence, since we often perceive things with our nose well in advance of our eyes.
Imagine how much more terrifying this loss would be if one's passion and livelihood depended upon it. At the time perfumer Jean Carles created Ma Griffe, he was largely anosmic. Anosmia is condition whereby one loses their ability to perceive odors. Let's put aside the fact that if any of us tried to create a fragrance with no sense of smell it would probably resemble kerosene, but the fact that this man created a beautiful and unique fragrance is astounding and a testament to his abilities as a perfumer.
The French term "ma griffe" is literally defined as "my claw". While the fragrance would later be repositioned (both in its chemical composition and its advertising) to fit this definition, it was initially portrayed with the more subtle, figurative translation of Ma Griffe, namely "my signature" or "my label" as in a designer's label. Ma Griffe was launched in 1946 by the design house Carven. Madame Carmen de Tommaso, Carven's founder, was a proponent for innovative clothing, meant to suit women in their everyday lives and the house's "signature" scent clearly reflected these sensibilities.
My main experience of Ma Griffe is of the vintage, and while this does possess an intense, green burst of galbanum and citrus in its opening (I felt I could almost see the green) it quickly offers brief, veiled glimpses of the soft, mossy heart that is to come. Ma Griffe in its original form is not the talon-bearing sabertooth alluded to in later advertisements which depict a woman's hand clawing deep marks into a man's back. While its composition and character are assuredly memorable, Ma Griffe is more like a playful feline which gently rakes its nails over your arm and then proceeds to arrange itself cozily in your lap.
While the heart notes feature jasmine and rose, this is by no means a sweet fragrance. More prominently featured are dry and warm facets of iris, musk and oakmoss. Even the vetiver, labdanum and sandalwood take on a tone which is more mossy than woody. While most mossy fragrances offer the impression of rain-soaked forests, Ma Griffe feels more like a walk in the forest on a dry day, when the soaring oaks and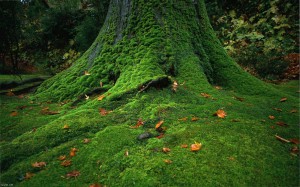 their mossy inhabitants are warmed by the sun and give off a dry, slightly powdery musty odor. If you are not a fan of oakmoss or musk, this may be a challenging fragrance. While its character is not overpowering, it is certainly distinct. For me, this fragrance takes me back to hours spent exploring the forest behind my house, in search of magical creatures both real and imagined.
Unfortunately, Ma Griffe has been repositioned into something of a bargain basement fragrance due in part to regulations regarding the use of oakmoss, in addition to financial considerations. The current incarnation plays up the more "aggressive" factors of the fragrance and has unfortunately all but destroyed the velvety drydown. While I cannot recommend the reformulation, I find the original to be exceedingly unique and would wear it more often if my supply of it were not so limited.
Floral chypre
Notes: gardenia, greens, galbanum, citrus, aldehydes, clary sage, jasmine, rose, sandalwood, vetiver, orris, ylang ylang, styrax, oakmoss, cinnamon, musk, benzoin, and labdanum.