Estée Lauder – Aliage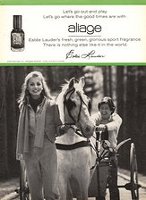 Mention high perfumery and everyone immediately thinks of the long history of French fragrances as the height of sophistication. But did you know that stateside we have several fragrances executed in the French style which hold their own when compared to their sisters across the pond?
I have been having a love affair with American perfumery recently, specifically those which are a nod to the French classics. Unfortunately, these suffer the same fate as their French sisters and many have been stripped of their former glory, though some are still readily available in acceptable forms.
Aliage is one such of these gems. Launched in 1972 and hailed by Estée Lauder as the first "sports fragrance", it was marketed via photos depicting the sumptuous Estée Lauder lifestyle. Tennis at the club, light hikes through rolling hills and a few laps in the pool – the smell of sporty sophistication and leisure, the sense of occupied idleness that only money can provide. Aliage is a bold green fragrance, with references to many of the great French classics. As a chypre rounded by a peach note, it is like a bridge between the beauties of Chanel No 19 and Mitsouko, marrying elements of each into a gorgeous new creation.
The opening is dry, bitter and sharp but the strong herbal tones mellow over time and are softened by the roundness of peach. The fragrance has a dry, Champagne-like quality, which keeps the peach element dry as silk, rather different than the fullness of Champagne's peach chypre.
This dry quality is due in part to an abundance of galbanum, which gives the fragrance its strong green impression. In fact, the quality of the galbanum in my vintage bottle is excellent, a definite reference to the sharpness of Chanel 19 and Vent Vert. The galbanum's green force is supported in the drydown by subtle notes of earthy pine, vetiver and thyme, which carry on the outdoors theme.
The base is a gorgeous deep blend of oakmoss and musk with a hint of myrrh, lending the fragrance a delicious depth often found only in the French classics, though Aliage is drawn in bolder, broader strokes than many of its French sisters.
Aliage can still be found today in a relatively similar form, though it has been toned down a bit due to regulations on materials, and the vintage version makes an appearance every now and then. For those of us who have explored French perfumery to its fullness but still want more, Aliage (sometimes found under the name Alliage) hits the spot.
Notes: Peach, Green Notes, Jasmin, Rosewood, Pine, Thyme, Galbanum, Vetiver, Myrrh, Musk, Oakmoss