Chanel – No 19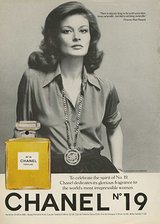 We are all familiar with the expression "It's not you, it's me", words that have been inextricably tied to the end of a love affair. In my case, these words came to signify not the end of an affair, but a delay in the commencement of what would become one of the greatest loves of my life.
The 1980s were the era of the signature scent. In contrast to the current over-saturation of the market, fragrance companies focused on promoting brand loyalty. And while women might be lured to explore a new release, temptation typically set in only after a beloved bottle was running low. Being a young woman at this time, just starting to purchase fragrances with my own money, the concept of a signature fragrance seemed practical to me.
After a consistent affair with Chanel No 5, in the then available Eau de Cologne version, I fell in love with the sharp brightness of Chanel Cristalle. Given my utter satisfaction with Cristalle, our affair was exclusive for several years. While Cristalle still holds a very special place in my heart and on my shelf, my only regret is that I was blinded to the beauty of a more silent suitor, who stood by in the wings, waiting to be noticed.
Oh, No 19. When I fell, I fell hard. My initial impression of No 19 was so intense it bordered on off-putting, which is surprising given that Cristalle has an equally sharp introduction. The opening notes are a bold blast of green galbanum and neroli, which seem almost metallic, a quality which is psychologically reinforced by the unique brushed silver top of the traditional flask. The opening is rounded out and very lightly sweetened by bergamot and neroli. The green sensation is enhanced by hyacinth, which makes an appearance in Cristalle as well. I find that the hyacinth note in the eau de toilette version is much sharper than in the eau de parfum and versions where it takes on a sweeter quality, a sensation which occurs similarly in Cristalle, but the similarities end there.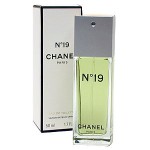 The heart of No 19 references the smooth Chanel duo of rose and jasmine, however, they are rendered more tangy and fresh by the introduction of narcissus and lily of the valley. While the addition of ylang-ylang into this already floral heart could theoretically have pushed this into the territory of cloying fragrances, the dry, powdery sensation created by iris tempers the whole bouquet and reinforces the bright green opening.
The true magic and beauty of No 19 however lies within its base of musk, oakmoss, leather, sandalwood and cedar, which ground the entire heady creation. No 19 was marketed with the tagline "Audacious and assertive. Never conventional" and is often referred to as a "power" scent for a woman. While the opening and heart notes certainly lend themselves to this interpretation, the earthiness of the dry-down reveals a warmth which is surely the soul of this strong woman. Silent and slow to reveal itself, but present nevertheless. Despite the intended direction of the marketing, this is a comfort scent for me, one I often reach for after a difficult day. She is like a close friend, one which needs no words to understand the language of your heart.
No 19 was named in celebration of Coco Chanel's birthday on August 19th. There is some controversy regarding the release, as it is often claimed that this was her signature scent, a theory which seems confusing given that it was released one year before her death and that Henri Robert, Chanel's second nose in residence was credited with its creation. In her book "The Secret of Chanel No 5", Tilar Mazzeo offers a wonderful interpretation.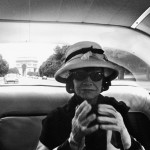 During 1945, and owing to conflicts over control of Les Parfums Chanel, Coco Chanel launched a separate line of perfumes sold exclusively in her boutiques under the name Mademoiselle Chanel.  One of the Mademoiselle Chanel fragrances became her personal favorite and as a result was set aside for her private use. According to Ms. Mazzeo's research, after some reformulation by Henri Robert during his tenure at Chanel, this fragrance was later made available to the public as No 19. While we may never know the complete truth, I will relish the thought that Mademoiselle Chanel's favorite scent is now one of my own.
Floral Chypre
Notes: Galbanum, Neroli, Bergamot, Jasmine, Rose, Lily of the Valley, Iris, Vetiver, Sandalwood, Leather, Oakmoss and Musk.