Christian Dior – Diorella
If Diorella had a face, it would be the exquisite beauty of Jane Fonda in Roger Vadim's 1968 sci-fi, B-movie masterpiece Barbarella. Both reflect a beauty which is disarming, innocent, sensual and yet somewhat strange. Dior released Diorella in 1972, yet another masterpiece created by Edmond Roudnitska.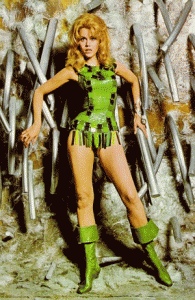 Diorella first tempts you with the freshness of lemony greens rounded out with a touch of melon and floral notes, giving the opening a hint of ripeness. Were it to end there, Diorella would have been an attractive, linear warm-weather fragrance, perfect for after a shower. But as is often the case with great beauty, Diorella has an underlying complexity which must be experienced if its beauty is to be fully appreciated.
Regardless of how many times I smell the opening, I am always surprised by a sense of underlying strangeness just beneath the surface, not unlike smelling an approaching storm before one feels the first drop.  As the top dissipates, a savory note of basil begins pushing toward the surface, which seems both out of place and brilliant, hinting at the richness of soil which lies underneath. Diorella is not unlike a flower blooming in reverse, its petals collapsing onto themselves and rolling up into the stem, which then plunges below the surface back into its damp, musky bulb. Diorella takes its time unfolding, each layer becoming increasingly sensual as the earthiness of oakmoss and vetiver settle down into the warmth of patchouli and musk.
If Diorella had sisters (or daughters perhaps), for me they would be Calyx Prescriptives and Cristalle for their green ripeness and Ma Griffe for its mossy magnificence.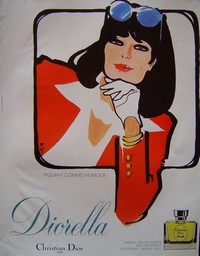 Chypre
Notes: Lemon, Peach, Basil, Bergamot, Melon, Green Notes, Honeysuckle, Jasmine, Violet, Rose Bud, Carnation, Cyclamen, Oakmoss, Vanilla, Clove, Sandalwood, Vetiver, Musk, and Patchouli.