Guerlain – Mitsouko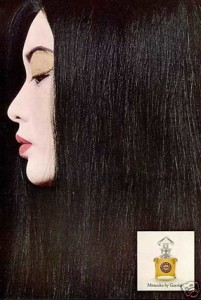 Despite being named after the heroine in Claude Farrère's novel "La Bataille", if each perfume symbolizes a woman, Mitsouko would have to be the mythological Eve, the first woman and mother of all. For it is in her composition that we can find the DNA for many beloved and wildly successful perfumes including Rochas Femme, Diorama, Youth Dew, Opium and Coco Chanel. Mitsouko was the astounding creation of Jacques Guerlain. Reflecting the world's fascination with Chypre by Coty, a ground-breaking creation which combined the somewhat odd bedfellows of bergamot, jasmine, labdanum and oakmoss into what would ultimately become a new fragrance category, Guerlain took this novel concept one step further with the introduction of a warm, creamy, ripe peach note. The original Chypre is often described as being a bit rough around the edges, a quandary solved by Guerlain with the introduction of the newly-discovered Gamma-Undecalactone, also known as Aldehyde C-14. Without getting overly technical, there is some debate over the use of the aldehyde reference to C-14, which is technically a lactone, a term which refers both to the molecule's structure as well as to its fragrance which often has a creamy (milky) scent. Aldehydes are often used to give a fragrance that special opening "sparkle" (imagine the first moments of Chanel No 5), whereas C 14 has a very specific golden peach tone. Nomenclature aside, the introduction of this molecule beautifully rounded out the more angular structure of Chypre into an unforgettable masterpiece.
Mitsouko is at once bold and soft, womanly and earthy. It is the smell of the fall, the warmth and spice of cinnamon and the odd sweetness of decomposing leaves. Its beauty is, quite simply, astounding. While Mitsouko is perhaps one of the most beloved and written about fragrances, it can often be a difficult one to approach if one is just developing their appreciation of vintage or more complex scents. Thanks in part to the inclusion of oakmoss, a popular perfume fixative before restrictions limited its use, Mitsouko has a certain musty smell reminiscent of library books which some find challenging upon first sniff. Ironically, it is the diminution of this same note in the modern, reformulated version, that many perfume enthusiasts bemoan the loss of.
Approaching perfume is not unlike learning about wine: at first, one's palate can more readily appreciate simpler, sweeter wines, but with time, one is able to appreciate the dry and more complex varieties. So it is with Mitsouko, so be sure to give it some time if you are unable to love it right away – this is one of the perfumes most worth knowing. While many have followed in her steps, Mitsouko is perhaps the finest example of the Chypre genre, if not one of the greatest perfumes of all time.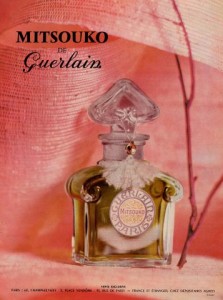 While I have various examples of Mitsouko in my collection, each with a slightly different scent due in large part to varying ages, the new reformulated version is in some respects a distinct departure from the original vintage. While the lasting power matches that of the original (my scent strip still held scent 48 hours later) the unfolding of the fragrance was decidedly different. While it is definitely still recognizable as Mitsouko, there were aspects throughout the drydown that seemed quite foreign to my nose, and at one point I thought I had mixed up my samples. Overall the fragrance seemed thinner and while I was comparing a modern EdP to a vintage parfum, I attribute the lack of depth more to the absence of oakmoss than to the concentration, as vintage versions of the EdT or even EdC seemed to have more weight than the modern EdP.
Indeed, an overall note on the vintage EdT and EdC Guerlains (and Chanels as well) – these are often excellent and substantial renditions of the parfum (with the exception perhaps of Chant D'Aromes). While they are often a touch more powdery than the parfum (especially true for L'Heure Bleue) they are a wonderful option if one is looking for a more affordable alternative to a vintage parfum.
Fruity Chypre
Notes: Bergamot, Lemon, Mandarin, Neroli, Peach, Rose, Clove, Ylang-Ylang, Cinnamon, Oakmoss, Labdanum, Patchouli, Benzoin, Vetiver.