Caron – Parfum Sacré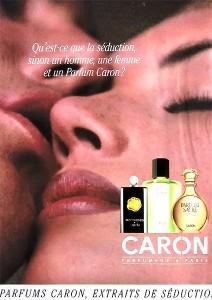 There are those loves which we know will endure forever. Such is the beauty of this peppery rose-inspired fragrance by Caron. But where Caron's Rose is simple and Marni is sheer and evanescent, Parfum Sacré positively smolders, bringing new depths to the pepper-rose combination.
As the vintage advertisement for Caron perfumes at left attests "What is seduction if not a man, a woman and a Caron perfume?" While the fragrance's name references the sacred, Parfum Sacré is nothing if not sensual.
Though Parfum Sacré opens with a burst of lively, citrusy pepper and spices, like many Caron fragrances, it is perfectly blended to create an more of an overall impression. Despite its spicy opening, Parfum Sacré is as warm and enveloping as a lover's embrace. The presence of rose lends a velvety texture to the underlying woods and spices, elements which on their own can often be perceived as dry.
Though vanilla and floral notes make an appearance, it is only to support the romance between rose and spices. While the distinct Caron drydown is recognizable, it remains enrobed in the warm, dark rose, adding a hint a smoky drama.
While both the extrait and Eau de Parfum have impressive lasting power, they wear fairly close to the skin, making for an intimate yet luxurious fragrance experience. While the vintage versions have more complexity and depth (especially the extrait which is truly magical) the reformulated version available today is a reasonably close facsimile and worth seeking out for those seeking an elegant and unusual rose-tinged oriental.
Notes: Vanilla, Myrrh, Civet, Cedarwood, Lemon, Pepper, Mace, Cardamom, Orange Blossom, Rose, Jasmine, Rosewood