Marni – Marni Eau de Parfum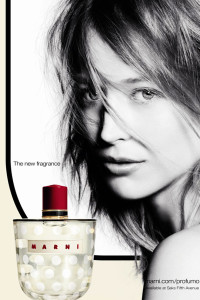 It's been a long time since I fell in love. In fact, as most of you know, most of my loves are old flames who have been around for a while. So imagine my surprise when I fell in love with a young upstart – the first fragrance release from the Italian fashion label Marni.
The fragrance was composed by the supremely talented Daniela Andrier, who created another love of mine, Infusion d'Iris. While Marni's character is miles away from Prada's Iris, they share a similar transparent quality which allows for fragrant complexity to be rendered with a light touch.
Marni starts out with a gorgeous bergamot that smells of high quality without being overpowering. As the fragrance unfolds, it reveals itself as a peppery rose which melds into an elegant woodsy scent with smoky incense undertones. I love how Marni remains dry as silk and never veers into the sweet floral territory, a factor which makes it stand out in the crowd of a thousand fruity florals.
I will forgive Marni its singular flaw and that is its lack of lasting power. It quickly settles to a comfortable hover just above the skin like a warm embrace. It makes a wonderful daytime scent with its elegant treatment of woods and subtle smoky florals. Marni feels grown-up without being characterless. In a word, Marni is delicious. Marni is easily found at major retailers and would make an excellent last minute gift for a special Valentine.
Notes: Bergamot, Cinnamon, Clove, Nutmeg, Ginger, Cardamom, Pink Pepper, Rose, Incense, Vetiver, Cedar, Patchouli